It's finally sunk in, for me anyway. The Toronto Maple Leafs have won a game! That's right. No more 0 for October. No more triangle jokes. No more talk about the worst start in NHL history. The best part was they looked pretty good doing it. They were tough without being stupid. They competed for pucks. They took the play to the opposition. Most importantly their goaltended played like a number one, something that hasn't happened for a very long time.

Jonas Gustavsson wasn't perfect but he was just what the Leafs needed Monday night against the
Anaheim Ducks
. In one night he helped end a horriffic losing street, squashed the Leafs goaltending contraversy, and injected a massive dose of confidence into a team in desperate need of some. All this from a rookie playing in his second start and third appearance of his NHL career. Maybe this guy has finally arrived to give Leafs Nation reason for hope. Judging by his poise, speed, agility, and refusal to give up on any puck thrown his way, it appears he has.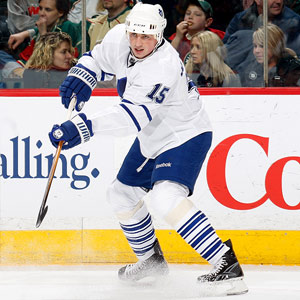 Okay, okay, I know it's a little early to be planning a parade route or even looking forward to a playoff appearance but in a season with so much disappointment we have to grab onto any scrap we get. With the 6-3 victory on the road, the Leafs are no longer the lowest scoring team in the league and now have been joined by The Los Angeles Kings with the worst goals allowed record. With Niklas Hagman's 3 goals and Tomas Kaberle's 5 points, we now have 2 players among the
league leaders
in goals and assists respectively. Combine this with Lee Stempniak's goals and 3 assists and Matt Stajan's 3 assists, the Leafs offense may have just woken up.
We will have to temper some of this joy with the fact that 5 of the Leaf goals were scored on the power play. Add to this the fact that the Ducks were penalized 17 different times during the game and must have been worn down. The Leafs were no angels either. They took 11 penalties of their own. The good news in this is, the Leafs scored 5 power play goals, they killed 10 penalties, and of 11 penalties, Mike Komisarek only took one of them. Francois Beauchemin played over twenty minutes and while Luke Schenn's ice time was cut to 10 minutes, he was an even plus minus on the night.

So, the Leafs get that tough first win. Their key veterans played like they need them too and their goaltending was excellent. Joy has returned to Leaf Nation. Let's hope it stays for a while.